New Raspberry PI 3 model B+ is Released.If you've ever  been come across to the concept of Raspberry PI then you'll have a bit of a feel for how they update their products.Just over two years ago,Raspberry PI 3B,It was 64-bit ARM board. It came with 64-bit CPU.
Those Raspberry Pi lovers will know that theyhave a history of releasing improved versions of our products a couple of years into their lives.we can point out some facts. let us take Raspberry Pi Model 1B+ as an example.which added two additional USB ports, introduced our current form factor, and rolled up a variety of other feedback from the community. but in the case of Raspberry Pi 2, it didn't get this treatment, of course, as it was superseded after only one year; but it feels like it's high time that New model received the "plus" treatment.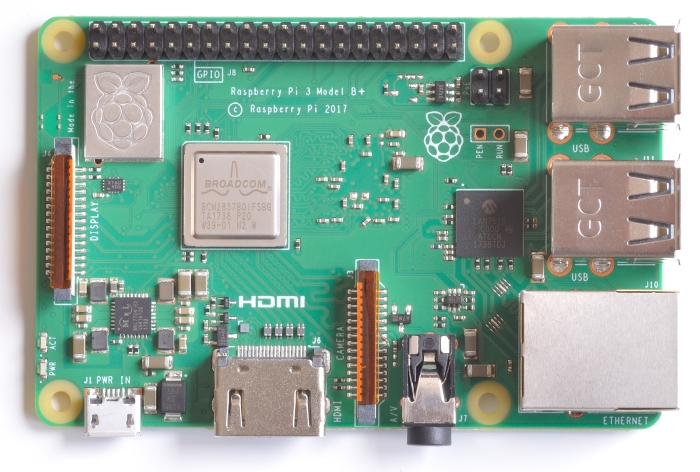 Specification:
SOC: Broadcom BCM2837B0, Cortex-A53 (ARMv8) 64-bit SoC
CPU: 1.4GHz 64-bit quad-core ARM Cortex-A53 CPU
RAM: 1GB LPDDR2 SDRAM
WIFI: Dual-band 802.11ac wireless LAN (2.4GHz and 5GHz ) and Bluetooth 4.2
Ethernet: Gigabit Ethernet over USB 2.0 (max 300 Mbps). Power-over-Ethernet support (with separate PoE HAT). Improved PXE network and USB mass-storage booting.
Key updates from previous model:
New support for Power over Ethernet
Dual-band 802.11ac wireless LAN and Bluetooth 4.2
Power-over-Ethernet support (with separate PoE HAT)
Improved compatibility for network booting
A 1.4GHz 64-bit quad-core ARM Cortex-A53 CPU
Faster onboard Ethernet, up to 300mbps speed
COST:
The price is same as the existing  Model,USD – $35