Librem 5 is a privacy-focused smartphone running on 100% Free Software, manufactured by Purism SPC. Unlike the usual scenarios, they don't run Android or any Android-based OS. Instead, Librem 5 runs a custom-made GNU/Linux Operating System, PureOS, which is in complete compliance with Free Software Foundation's (FSF) free distribution guidelines and endorsed by FSF. It doesn't ship any non-free application. Librem 5 crowdfunding campaign launched on August 2017 with a $1.5 million funding goal and campaign was completed with $2.3 million, 53% more than of the original goal.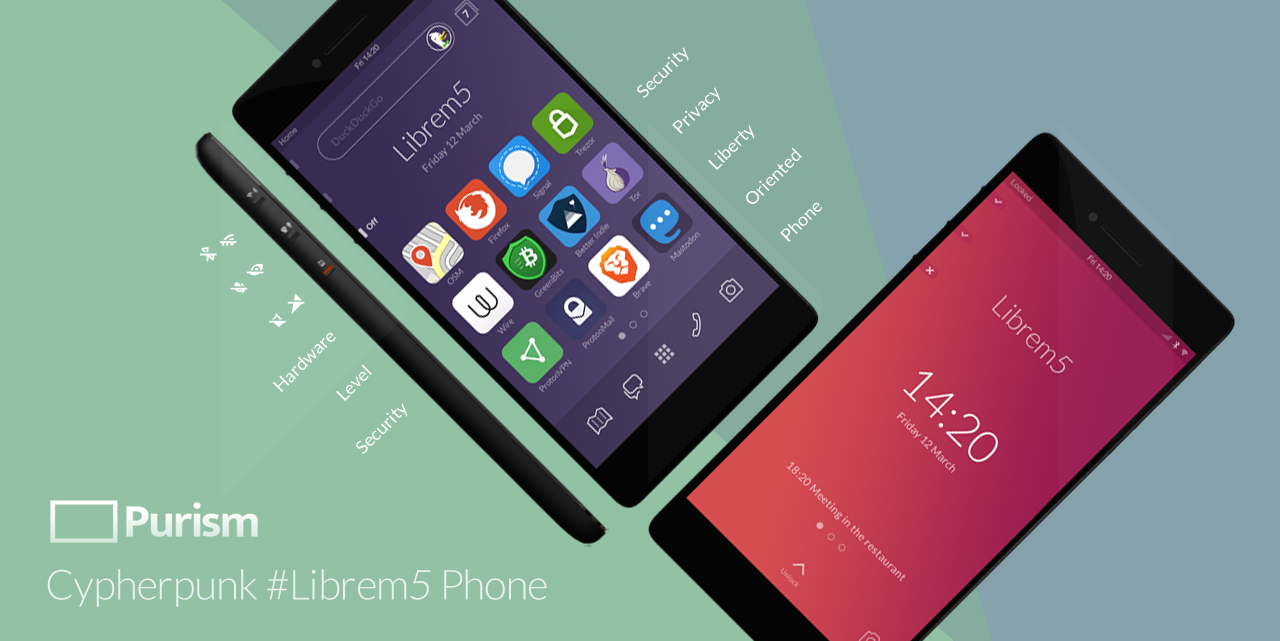 Purism is a Social Purpose Corporation (SCP) based in South San Francisco, founded by Todd Weaver. Their first product was Librem 15, a custom-made intel-based laptop shipped with GNU/Linux OS. Later they released a 13 inch model, Librem 13, which comes with hardware kill switches. Later, on August 2017, Purism started crowdfunding campaign for their next product in their Librem series, Librem 5, a 5 inch mobile phone. Their business model is based on crowdfunding, build-to-order, but now Librem 13 and Librem 15 are available to order from stock.
Librem 5 Hardware Specifications
It was said Librem 5 would be coming with i.MX 6 CPU, but now they are planning to release it with newer version i.MX 8 to mitigate with battery life and heating problem. The reason behind choosing i.MX series is that CPU can be seperated from baseband and it runs Free Software.  i.MX 8 will not be suffering from meltdown.
Librem 5 comes with 3GB LPDDR3 RAM, 32GB eMMC internal memory and a MicroSD slot for external storage. It will have a 5 inch display with metalic body. Librem 5 will work with 2G/3G/3G, GSM, UMTS and LTE networks so that it can easily function as a daily-use phone. The most important feature of Librem 5 phones is that it comes with a hardware kill switch for camera, microphone, WiFi/Bluetooth and baseband. This exclusive feature, with no doubt, is a huge necessity for a phone security-wise. That says, Libem 5 could be a security-oriented phone for the business community too.
Librem 5 will be a no-carrier phone, which means you can use it without a carrier, just with WiFi. This doesn't mean that you can't choose traditional phone calls using phone number through a carrier, but it is recommended to use encrypted calls for communication.
While hardware specs can vary with availability of devices and corresponding software, it will still have all the functionalities of a usual smartphone, but with an extra feature – it respects your freedom! This phone doesn't track you and sell your data, it comes with and open source operating system and hardware kill switches. Ultimatly, you are in control of your device. In Purism's words,
We believe people should have secure devices that protect them rather than exploit them. To that purpose, we provide everything people need in a convenient hardware and software product. We offer high-quality privacy, security, and freedom focused computers and software.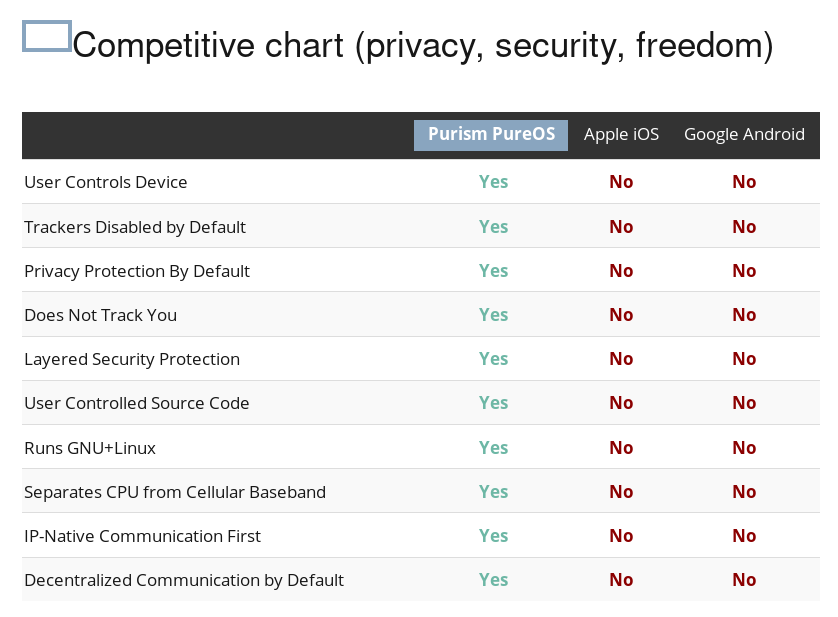 What's not in Librem 5
It will not be coming with any inbuilt biometric hardware. They said even if they are going to integrate biometric hardware in Librem 5 in future, it will be double-locked with additional security code.
It will not have all your commonly used Android apps. Running Android applications on Librem is a future goal, but it will not be available with this release. They will continue to add more applications after Librem 5 is shipped. It has to be noted that, it is a Free Software phone and anyone can tweak, fork and add more applications as we need.
A peek at the software side of Librem 5
As mentioned earlier, Librem 5 will come with PureOS pre-installed and can run all major GNU/Linux Operating Systems like Debian, Ubuntu, Fedora, SUSE, Arch Linux and SubgraphOS. The processor comes with good Free Software support, so are the other hardware components, that means no more non-free binary blobs.
An important thing to be said here is that it comes with Matrix client as its default dialer and messaging app. For those who are unfamiliar with Matrix client, it is an end-to-end encrypted, decentralised communication application based on the Matrix APIs. And, of course, it is completly free. It can be used for both instant messaging and VoIP communications. It comes with video call feature and a lot of apps and services can be integrated with it. You could also run various bots in Riot! It's exciting to see two game changers in the Free Software world uniting together to accomplish something that was a dream until now.
Purism has also partnered with Nextcloud to build end-to-end encrypted storage products and services. Nextcloud is an open source cloud suite of client-server softwares for file hosting and sharing. Purism is planning to integrate Nextcloud in Librem 5.
Purism is also planning to use the cryptocurrency Monero to enable mobile payments. This will make monetary transactions easier for an average user. Monero is a decentralised private currency that is created to be identical to the centuries of physical world transaction processes.
What about the UI/UX?
GNU/Linux systems, unlike other systems, has the freedom to choose from multiple Desktop Ennvironments and new ones keep coming. In case of PureOS, it is no different. They are working together with GNOME and KDE to bring better UI/UX experience for Librem 5 users. KDE has been working on creating a mobile interface for a while, so Librem team willl be working together to make hardware integeration smooth and about GNOME, they will be working together to create a seamless mobile interface with responsive GTK+ apps.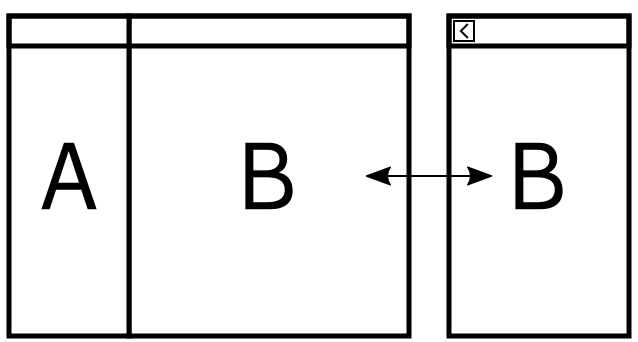 Purism has hired Peter Kolaković as their new UI & UX designer, one who made the concept arts presented on the Purism crowdfunding campaign page. Eugen Rochko is their new Web Designer, who created Mastodon – a decentralised Free Software alternative to Twitter.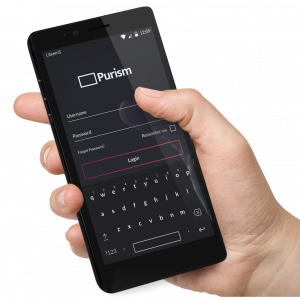 PureOS is trying to bring convergence back in to the game. Right now they working on a dark theme to give a unified look across their devices. Here are some design works they published on their official website: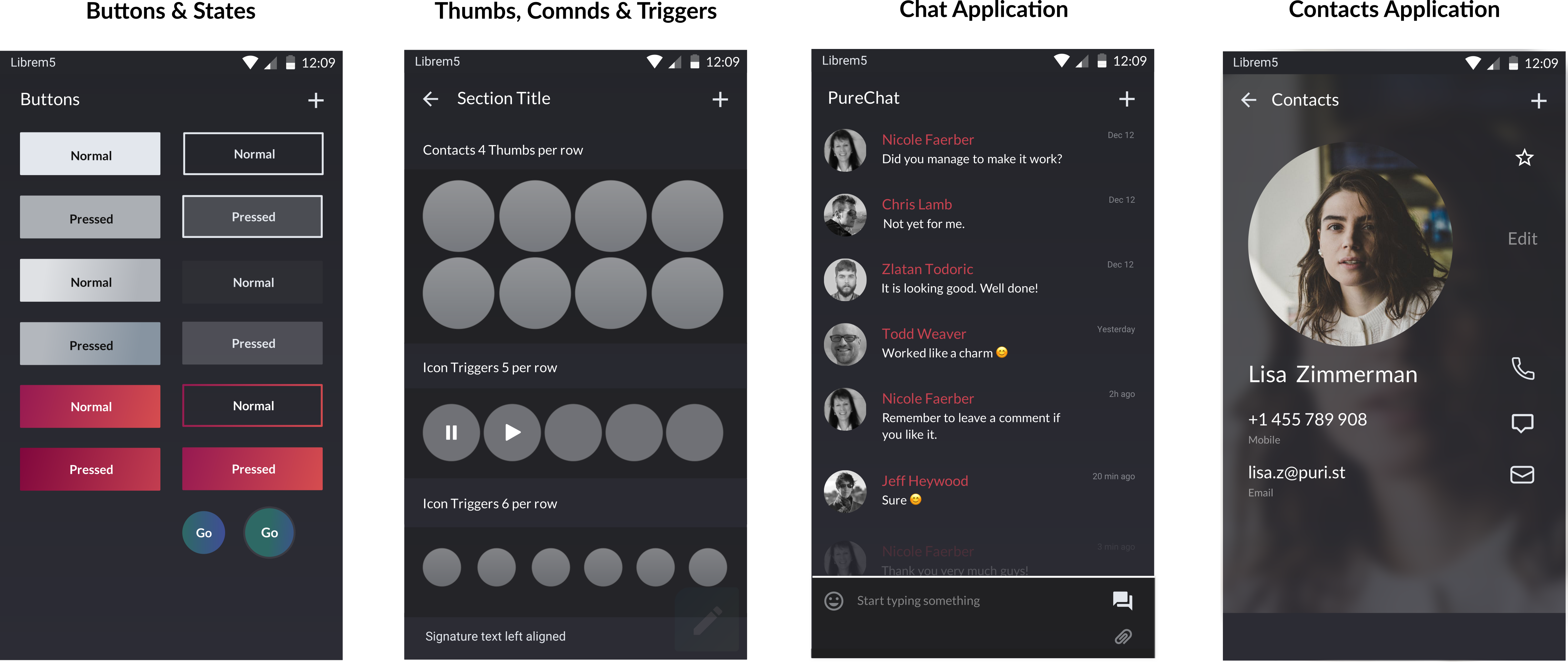 A light theme is also on the way. Talking about design, Matrix team is also working on a naive client to run on both desktop and mobiles. They haven't decided between GTK and Qt yet, but there will be give-and-takes from the current native Matrix projects (nheko, Quaternion, ruma-gtk, matrix-glib-sdk, qmatrixclient, etc.)
Enjoy Freedom
The crowdfunding campaign is over now, but you can still pre-order Librem 5 from their official website. You can also buy Librem 13 and Librem 15 from stock (Hurry and grab your freedom before it goes out of stock). There is also a tablet on the way, Librem 11; The Transformer, which you can pre-order now.