Wine released their next stable version, Wine 3.0, with support for Direct3D 10 & 11. Its been a year since their last stable release, Wine 2.0. You can now download and install Wine 3.0 from their official site.  Because of their annual release schedule, development of many features usually gets postponed to next release cycle.
Wine 3.0 comes with more than 6,000 individual changes and with the new Wine, Direct3D supports more graphics cards. That means you can run Adobe Creative Cloud on your Linux systems seamlessly.
If you are unfamiliar with Wine, it is a compatibility layer application that allows you to run Windows software on Linux distros. They have more than 25,000 Windows applications compatible with Wine listed on their database, Wine Application DataBase, categorized with different levels of stability. You can also test and add a new entry to their registry.
Wine 3.0 Features
Wine 3.0 comes with a huge number of improvements. The major improvements in the latest stable release are as follows:
Direct3D 10 and 11 Support
– Direct3D graphics card database extends supports to more graphics cards
– Number of Direct3D features
– Improved command stream
– Improved support for OpenGL core contexts
Improvements on Direct2D
– Outline can be drawn on Direct2D geometry objects
– Compatibility with GDI is implemented
– OpenGL extension list updated to OpenGL 4.6
– WindowsCodecs now support encoding image formats with palette
Android support
– Wine can be made to work in Android, APK files can be created
– Full graphics driver
– Full audio driver
– Direct3D support will be addressed in next cycle
Default Windows version is set to Windows 7
– Semantics of named pipes are implemented
– Supports position independent executables
– Automatically creates serial and parallel port devices
– Safe DLL search mode is implemented (disabled by default)
– Improves Asynchronous I/O performance; reduced number of system calls
Improved user interface and desktop integration
Improves D3Dx support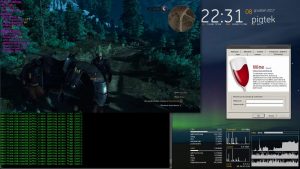 Download and Install Wine 3.0
WineHQ binary packages for Ubuntu
WineHQ binary packages for Debian
WineHQ binary packages for Fedora
WineHQ binary packages for Mageia
WineHQ binary packages for macOS
For detailed installation instructions see this post. Also, the source code of Wine 3.0 is available from their official repository, binary installers will be available from respective sources as soon as they are built. Download and install Wine 3.0 in your favorite Linux distribution and try the Windows applications you need right away.