Firefox 60 released on May 9th, with a much awaited feature for Linux users. Firefox is now able to hide titlebar by default. This will be a big moment of joy for gnome users who were troubled with the fat titlebar taking half of of the screen. Previously, before Firefox Quantum, it was done by an extension. Client Side Decoration (CSD) support was under discussion for more than couple of years.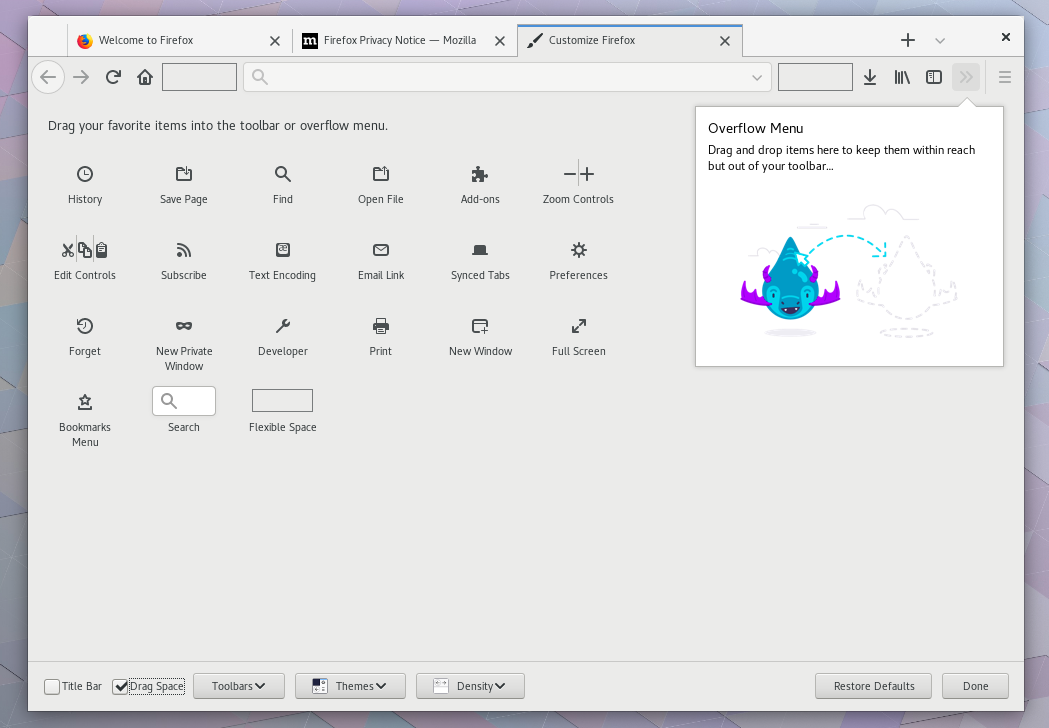 Go to customize on your menu and un-check the title bar checkbox one bottom left. You can add a drag space if you are filled up with tabs and have no space to drag your Firefox 60 around your desktop.
Other than the changes in Client Side Decoration, Firefox 60 released comes with lot of other features like,
Enhancements to the New Tab page
– A responsive layout to show more content for wide-screen layouts.
– Highlight session shows pocket pages too.
– Options to reorder sections and content on New Tab page
More control over third party cookies using cookies site storage section in preferences.
Browser UI is now rendered by Quantum CSS.
Now you can use USB tokens for website authentication, Firefox now supports Web Authentication API.
Improve camera privacy indicators. Firefox now turns off camera and camera's light when video recording is disabled.
For Developers
Stylo, aka Quantum CSS Engine is now enabled for Firefox 60 released for Android. It was enabled for desktops from Firefox 57.
Various changes on CSS Pane rules view,
– keyboard shortcut for precise value increments changed from Alt+Up/Down to Ctrl+Up/Down on linux and windows.
– Autocomplete feature for CSS Variable names.
Users now can enable/disable automatic page reloads in Responsive Design mode.
Page source is now will only load in new tab for View Source.
WebVR API has been enabled by default on MacOS.