Web analytics software helps us to measure, collect and analyze web data so that we can get a better understanding of our website's traffic. However, web analytics is not just about measuring web traffic. The collected data can be analyzed in order to help us optimize the web performance and experience. It can also be used as a tool for business and market research. Today we are going to present you the top 5 open source web analytics software available for Linux systems. First of all, let's take a look at the main features of a web analytics software.
Main features of a Web Analytics Software
A web analytics software can usually report the following web data:
Number of unique visitors
Number of page views
Most viewed pages
Bounce rate and exit rate
Visit duration and last visits
ISP
Device type, OS and the browser used
HTTP referrer
Need of Open Source Web Analytics Software
As you may all know, Google Analytics is a popular cloud-based web analytics service. It is of course a great tool which provides deep insights into your website's traffic. It is one of the most widely used web analytics service world-wide. But the problem with Google Analytics is that your website's data is locked within the Google ecosystem. If you would like to have complete ownership of your website's data then you should use any self-hosted web analytics service. That's where the free and open source web analytics software comes in to play. You can try any of the following open source web analytics software in order to get detailed information about the number of visitors, pageviews, etc. on your website.
Top 5 Open Source Web Analytics Software
Matomo
Matomo, formerly Piwik, is a free and open source web analytics software. It runs on a PHP/MySQL web server. It tracks online visits to one or more websites and displays reports on these visits for analysis using a web browser. Matomo also works best for e-commerce websites. A free mobile app is also provided so that users can access the analytics data on their phone.
 Main features of Matomo
Open APIs
Real-time Tracking
Campaign Tracking
Geolocation
Customizable Dashboard
Plugins Support
Custom Alerts
Clean and Beautiful User Interface
Open Web Analytics
Open Web Analytics (OWA) is another open source web analytics software that is written in PHP and uses a MySQL database. OWA has various features that are comparable to Google Analytics. You can add a snippet of Javascript or PHP code to your web pages to enable tracking. It also supports tracking with WordPress and MediaWiki.
Main features of Open Web Analytics
Top Keywords and Search Engines
Session Duration
Pages per Visit
Repeated Visits
Goal Conversion Tracking
Gelocation
ISP
Operating System
Real-time Statistics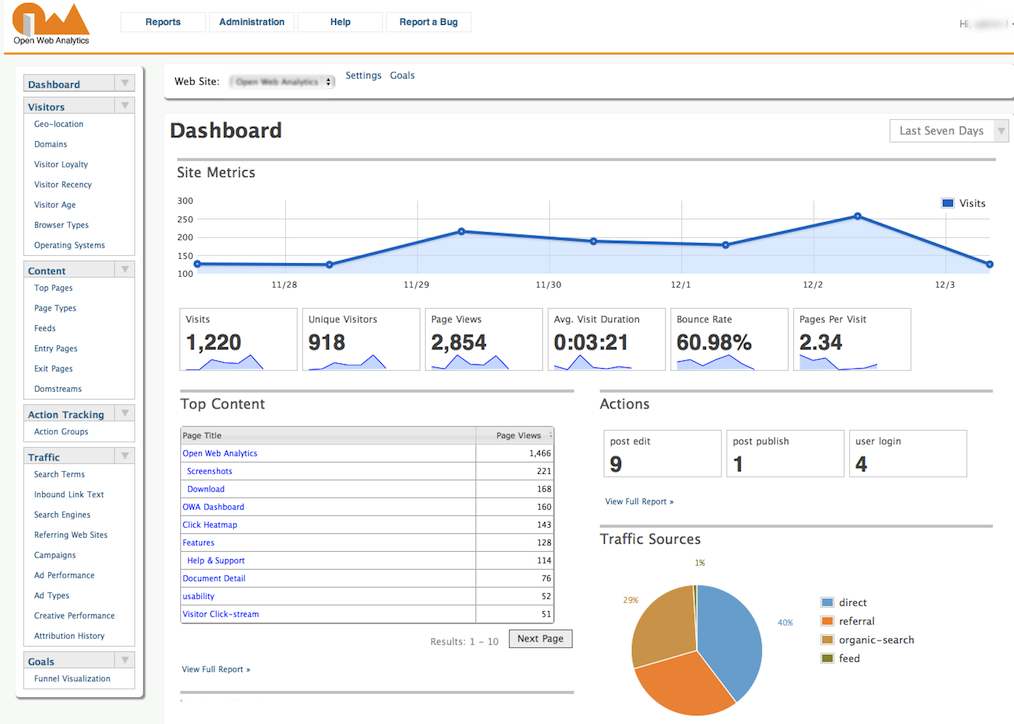 GoAccess
GoAccess is an open source real–time web log analyzer. A web log analyzer is a kind of web analytics software that parses a server log file and derives various indicators about the website visitors. GoAccess is an interactive viewer that runs in a terminal in unix-like systems or through a browser. It provides fast and valuable HTTP statistics for system administrators that require real-time visual reports.
Main features of GoAccess

Real-time Analysis
Log Processing
Supports nearly all Web Log formats
Metrics per Virtual Host
Minimal Configuration Needed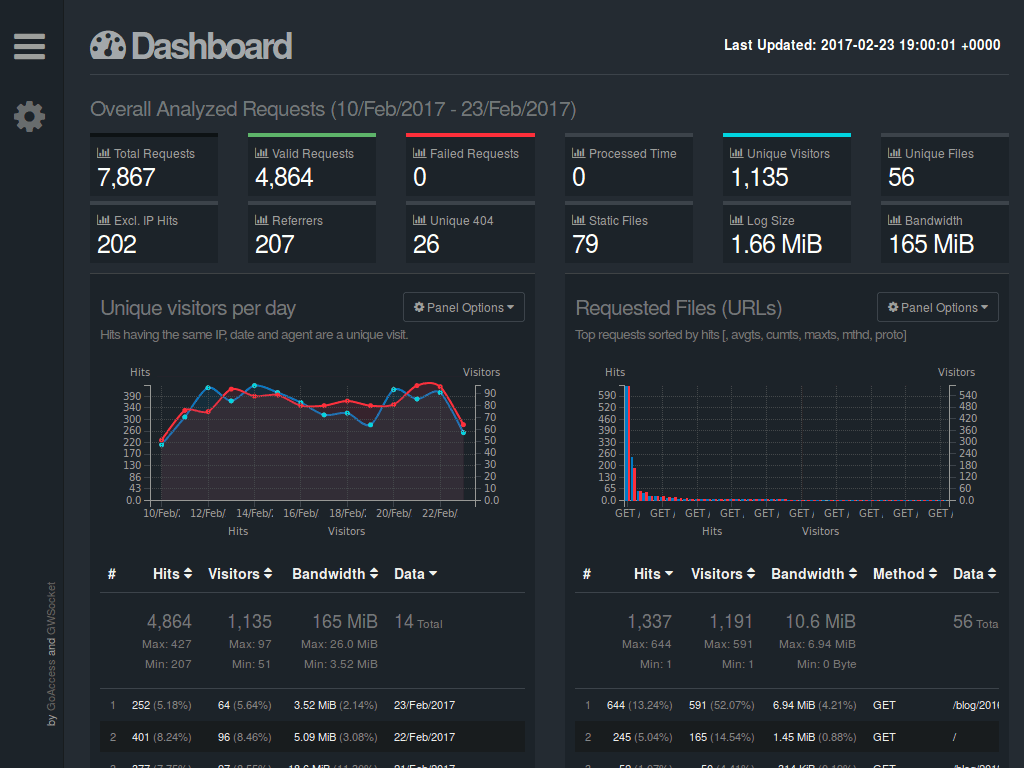 AWStats
AWStats is an open source Web analytic reporting tool, used for analyzing data from Internet services such as web, streaming media, mail and FTP servers. We can use this tool from the CLI or as a CGI to see all info from your log files. This tool uses a partial information file to be able to process large log files, quite fast. Awstats handles Common Logfile Format (CLF) and several variations of NCSA combined logfile format. It is written in Perl and hence it will run on almost all operating systems.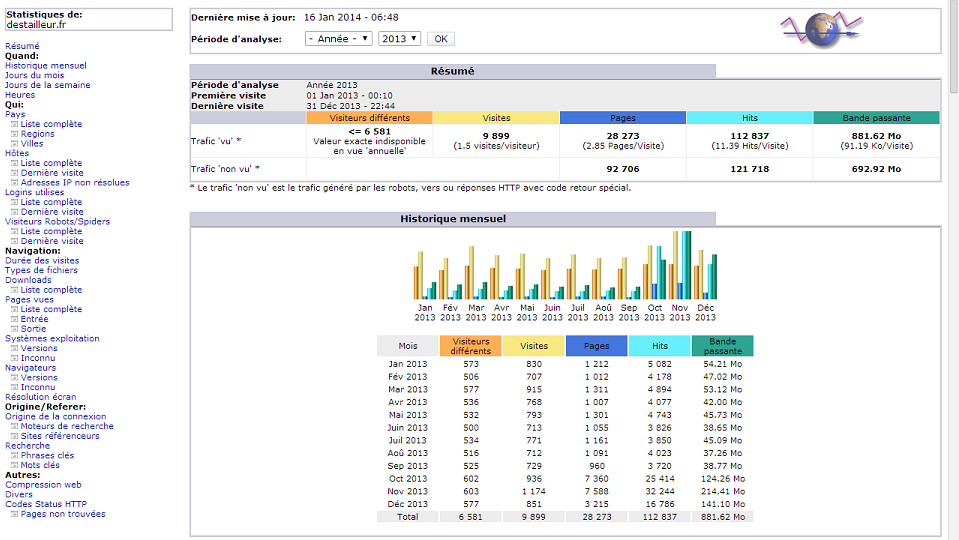 Webalizer
Webalizer is another open source web log analyzer that you can host in your own server. It is one of the most commonly used web server administration tools. This tool produces highly detailed, easily configurable usage reports in HTML format. The output statistics can be viewed graphically and presented by different time frames, such as by day, hour or month.
Main features of Webalizer
Written in C to be Fast and Highly Portable
Handles Common Logfile Format (CLF) and Several Variations of NCSA Combined Logfile Format
Supports Multiple Languages