Firefox 58 release is scheduled on January 23. With Firefox's new streaming and tiering compiler, web pages will load faster than even their previous major release Firefox Quantum. Firefox Quantum was a major milestone in Firefox's history, shipped with modern UI called Photon and a new core engine making it faster than ever.
A two-tiered compiler which makes the code compilation fifteen times faster than the current optimizing compiler will be the main attraction of the Firefox 58 release. With the latest compiler changes Firefox can now compile the code while it is being downloaded and in fact compiles faster than being downloaded, means the code will be executed as soon as it is downloaded.
Regarding security updates, the new release will contain fixes for Meltdown and Spectre timing attacks. Firefox was one of the first browsers to respond and release updates to Spectre and Meltdown attacks. Another bug like background sending crash reports without user opt-in has also been fixed.
The upcoming Firefox 58 release will also include other features like support for form autofill for credit cards and improved page render speed for Windows users. Also, Mac OS X users can be happy as WebVR will be enabled on Mac OS X.
Warning: You will not be able to downgrade your Firefox profile to previous versions anymore, for such cases new profiles should be made!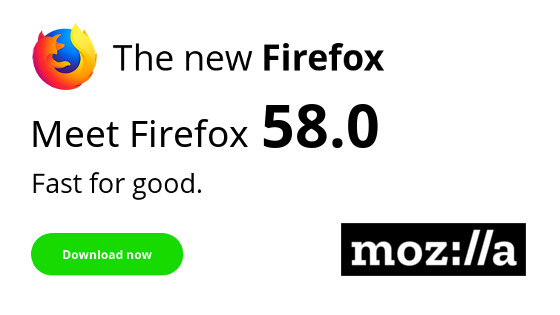 Firefox 58 Release For Developers
The old Responsive Design Mode has been removed from Devtools.
A button to pause/play recording network traffic is now implemented on Network Monitor.
PerformanceNavigationTiming API has been implemented; it can be used to measure the time to load/unload a document.
Removed prefixed version of HTMLMediaElement.srcObject
Removed support for prefixed WebGL extensions.
TLS handshake timeout is implemented with the default value of 30seconds.
Firefox Android now supports "Add o home screen".
How to download Firefox 58?
Firefox 58.0 beta can be downloaded from Mozilla repo or you can wait for the official stable releases. If you are a Linux user, you can either download, extract and run the Mozilla's official image or wait till the new update comes to your distribution's package repo.