Telegram is a powerful Messenger. Each update of Telegram is coming with cool features. today's update containing Login using Telegram for websites. By using this feature Telegram users can login to the website using their Telegram account. This feature uses a  Telegram login widget and it is a simple way to Login using Telegram in any website.
When you use Telegram login for the first time, our widget asks for your phone number and sends you a confirmation message via Telegram to authorize your browser. Once this is done, you get a two-click login on every website that supports signing in with Telegram.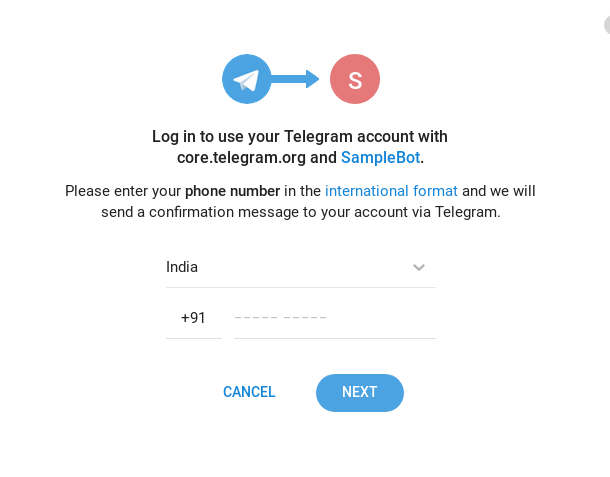 then you will receive a confirmation message from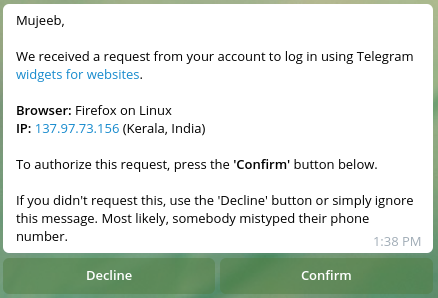 if you confirm if you can use telegram credentials on that website. Clicking 'Accept' from website pop up will send your Telegram name, username, and your profile picture to the website owner. Your phone number remains hidden. The website can also request permission to send you messages from their bot.

in this update Telegram also implement the Permission to speakability for a bot. as far today bots cant start conversations with users who don't start The bot. with this feature Telegram targeting providing customer support, accepting payments, or sending notifications of any kind – including account statements, shipment tracking, flight updates, and so much more.
How you can Track the service
After each login, Telegram will send you a summary message about the permissions you've granted and the data you've passed to the website owner. You can revoke the authorization by tapping the appropriate button under the login summary.
How To implement Login using Telegram in your Website
Telegram bots are awesome Tool for communication. payment bot is already implemented by Telegram. there is no doubt Telegram is shopping friendly. To access a service by login with Telegram also uses The Telegram bot API.
first, create a bot using @botfather Telegram and send /set domain command. and you can link your website with the bot. make sure you have chosen the same profile picture and bot name as your website. then configure your website widget using this widget configuration.  and copy the embed code to your website.  for checking authorization and receiving data about a logged in user you can use the sample code.